MPT to Invest $1.4 Billion to Acquire 11 Hospitals, Expanding Its Relationship with Steward Health Care
Birmingham, AL – May 19, 2017: Medical Properties Trust, Inc., (NYSE: MPW) has signed definitive agreements to acquire the real estate interests of 11 hospitals across four states to be operated by Steward Health Care, one of the most innovative and successful hospital operators in the United States.
The $1.4 billion transaction includes 10 community-focused acute care hospitals and one behavioral health facility currently operated by IASIS Healthcare in high-growth urban and suburban markets in Utah, Arizona, Texas and Arkansas. Steward and IASIS have separately announced their intention to merge, and MPT's investment is conditioned upon the completion of that merger agreement.
The deal, which marks MPT's third investment in Steward, expands its relationship with this forward-thinking operator, which will become the largest private, for-profit hospital operator in the U.S. Following completion of this transaction, which is expected to occur by the end of the third quarter of 2017, Steward will operate nearly 7,500 patient beds in 36 hospitals across ten states.
MPT's first investment in Steward of $1.25 billion, which was announced in September 2016 and completed the following month, included nine acute care hospitals centered around Boston, one of the most competitive healthcare markets in the world and home of many internationally renowned hospitals.

"Steward has achieved remarkable success in growing its company, starting with the turnaround of a struggling not-for-profit hospital system in eastern Massachusetts," noted MPT Chairman, President and CEO Edward K. Aldag, Jr. "As Steward has implemented its strategic plan to develop an integrated network with various access points along the healthcare continuum, the results have been improved outcomes and reduced costs."
As part of the original agreement with Steward, MPT gained a right of first refusal on Steward's next $1 billion of growth. MPT's second investment in Steward – announced in February and completed earlier this month – was a $301 million sale/leaseback agreement for eight additional hospitals in Ohio, Pennsylvania and Florida, all formerly operated by Community Health Systems. That investment enabled Steward to begin its expansion beyond New England.
Steward's integrated model, including 1,800 directly employed multi-specialty physicians and several thousand aligned physicians, shifts healthcare delivery to a more cost-effective, locally coordinated approach emphasizing quality care and wellness.
"We are very excited about this opportunity to grow with one of the top hospital operators in the country," Aldag added. "MPT has grown its assets by approximately 31 percent annually since 2013, compared to 15 percent for our healthcare REIT peers, and with this transaction, we eclipse our previous record 2016 acquisition total."
"MPT's phenomenal growth, even as we sold almost $800 million of assets in the first half of 2016 to reduce leverage, has resulted in our normalized FFO per share growing more than 10 percent annually compared to 6.7 percent for our peers for the period," he said. "Our dividend growth of 4 percent per year has also outperformed our peers."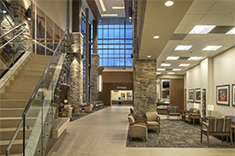 The merger of Steward and IASIS is expected to generate projected revenues of almost $8 billion in 2018, the first full year of consolidated operations.
"Consolidation will continue in this dynamic healthcare environment," Aldag observed, "and Steward is in a good position to capitalize on this trend."
This new transaction increases MPT's total gross assets on a pro forma basis to almost $9 billion, an increase of approximately 20 percent. It also adds 11 outstanding hospitals and more than 2,400 beds to MPT's portfolio, increasing the total number of MPT facilities in the U.S. and Western Europe to 269 and the total number of hospital beds owned to more than 31,000.